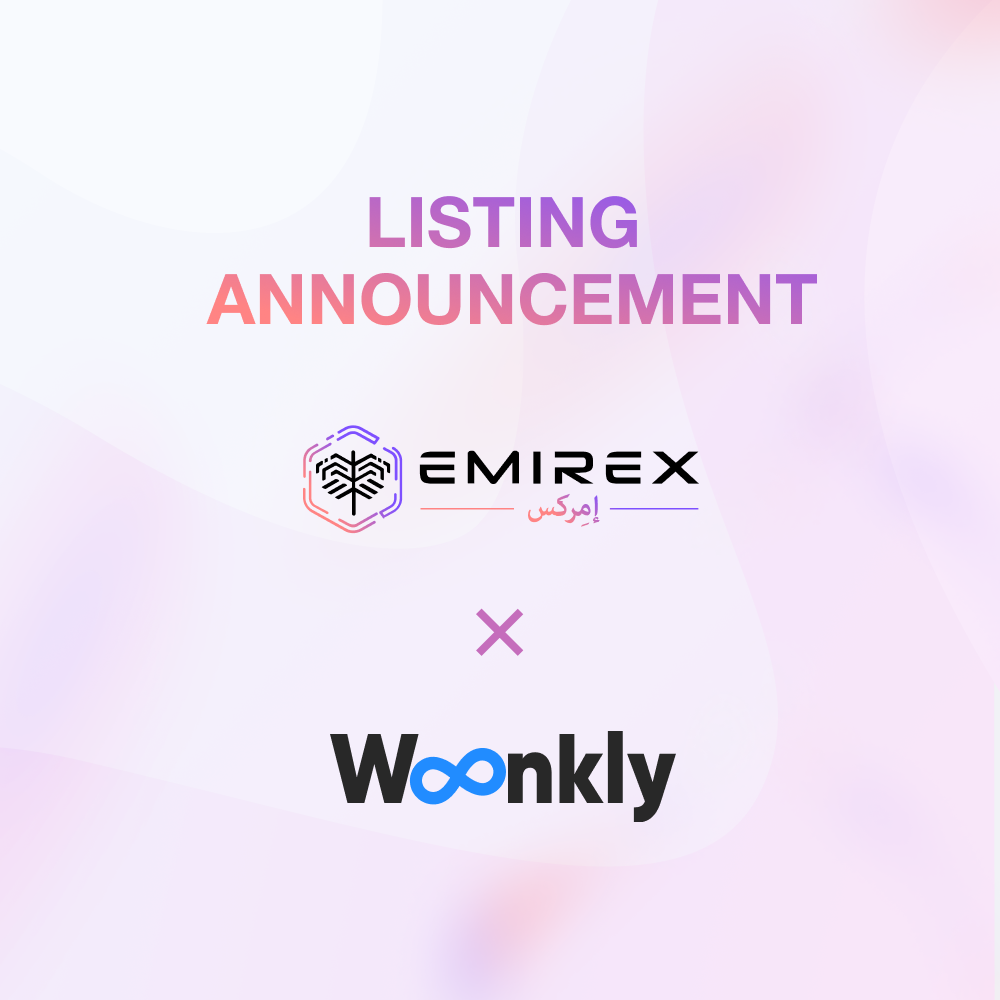 We are thrilled to announce the official listing of the Woonkly Power (WOOP) token on the Emirex cryptocurrency trading platform. Currently, the available trading pair is WOOP/USDT.
Woonkly is a DeFi protocol that enables a Decentralized Social Network. Advertisers' capital invested in post advertising is shared with people who interact with that content. All of which are created and working 100% in Blockchain using their mainnet (Hyperledger BESU and Polkadot) connected with Binance Smart Chain (BSC).
What is Woonkly Labs?
Woonkly Labs is a blockchain-based technology solutions firm constantly adapting to the market by delivering new goods and services. Woonkly Labs is an Estonian technology firm created by Spanish entrepreneurs focusing on developing blockchain-based products and services.
Its vast technological scope and disruptive spirit enable it to create novel business models and technology solutions that allow consumers to regain control of their data and funds. As a venture builder for blockchain projects, Woonkly Labs produces businesses with the potential to become the next unicorn and invests in the most promising ones via its accelerator and fund.
Woonkly Product Suite
Kubic.com: An Automated Market Maker (AMM) that complies with all AML and KYC rules. Swap tokens across blockchains (cross-chain) with the security and confidence of a company that holds crypto and wallet licenses.
Woonkly NFT: A decentralized social network based on NFTs. Create your own NFTs quickly, sell them on the marketplace, and earn money by sharing your content on a social network that splits advertising income with its users.
Woonkly Chain: A new, safe, and fast blockchain with the lowest possible gas prices. Create your items on top of the revolutionary and one-of-a-kind Woonkly Chain.
Woonkly Accelerator & Fund: Investing in and assisting cryptocurrency startups. Woonkly helps the world's top crypto companies by partnering with the best crypto hubs.
WOOP token: The bedrock upon which all Woonkly Labs products are built. You may now invest in the most cutting-edge cryptocurrency items by purchasing their token, WOOP. This token, listed on five exchanges and has a market worth of more than $300 million and a daily trading volume of more than $3 million, benefits from all products launched and developed by Woonkly Labs.
Learn more about Woonkly Labs by visiting their Medium, Github, Telegram, Twitter, Facebook, LinkedIn, Youtube, Instagram, or CMC listings.
About Emirex
Emirex is a cutting-edge platform that combines an exchange and a marketplace to allow users to trade any currency for digital assets. It provides round-the-clock assistance and platform stability that has been proven over the years, ensuring assets and data security. The team recognizes the importance of digital assets. It aims to make the world a better place for economic freedom by building public, open, fair, and censorship-resistant networks that benefit everyone.
Sign up now!