The Emirex exchange is thrilled to announce an IEO partnership with Aqarchain, a blockchain-powered real estate investing platform whose aim is to create a decentralized ecosystem where investment in real estate is as easy as investing in shares on the stock market. This goal is achieved by fractionalizing real estate properties.
Aqarchain IEO round 1 will launch on the Emirex exchange on September 30/2021 with a price of $0.25/token. AQR tokens will be available for purchase in AED and USDT. Tokens will be locked until the end of the IEO.
Total supply - 100,000,000 AQR
AQR price - $

0.25

Soft cap - $

1,000,000

Hard cap - $2,500,000
What is Aqarchain.io?
Aqarchain.io is the AQR Utility Token issuance platform and also a platform that will allow white-labeled Hybrid Self tokenization of real estate assets. Property owners and developers will have open access to bring their properties on this platform and use the hybrid self tokenization platform to issue security tokens of the asset and conduct a public sale of the tokens as an STO.
This platform enables complete decentralized infrastructure for the property owners and the purchasers of the security tokens. Aqarchain is the flagship product of the Smart Chain Information Technology Consultancy Ltd. The purpose of this product is to provide tokenization of real estate assets using blockchain technology.
The

Aqarchain

platform will facilitate the selling of properties between various sellers and investors.
The platform will cater to retail clients as well as professional clients and potentially market counterparties.
The platform will offer an additional level of smart contracts security by tokenizing the shares in the properties.
Why Invest in Aqarchain?
Fractional Ownership
Dividing the property into divisible shares of each sq cm allows investors to invest in minimum value and spread the risk. Investors always have an option to increase or decrease their share percentage in the asset. This enables even smaller investors to get to invest in what is usually reserved for the larger corporates and institutions.
Crowd Funding through tokenization
An age-old tradition that has been commercialized in this era with the advent of technology. People have been pooling money to buy assets for ages and it has always been in closed circles of family and friends, now it has become more easier and efficient. Aqarchain ensures that everyone's interest is secured and safe. Investors in AQR tokens will get an advantage and early access to the launch price of the token. Traction and demand will drive appreciation in token price and appreciation to early investors.
Aqarchain Staking
Aqarchain will have a staking platform for its Native AQR token;
The AQR tokens will be rewarded for staking;
AQR tokens will also be rewarded for staking XTZ on the Aqarchain Platform;
Smart Chain runs the only Bakery Node in Dubai for the Tezos Blockchain.
Why is Aqarchain Better?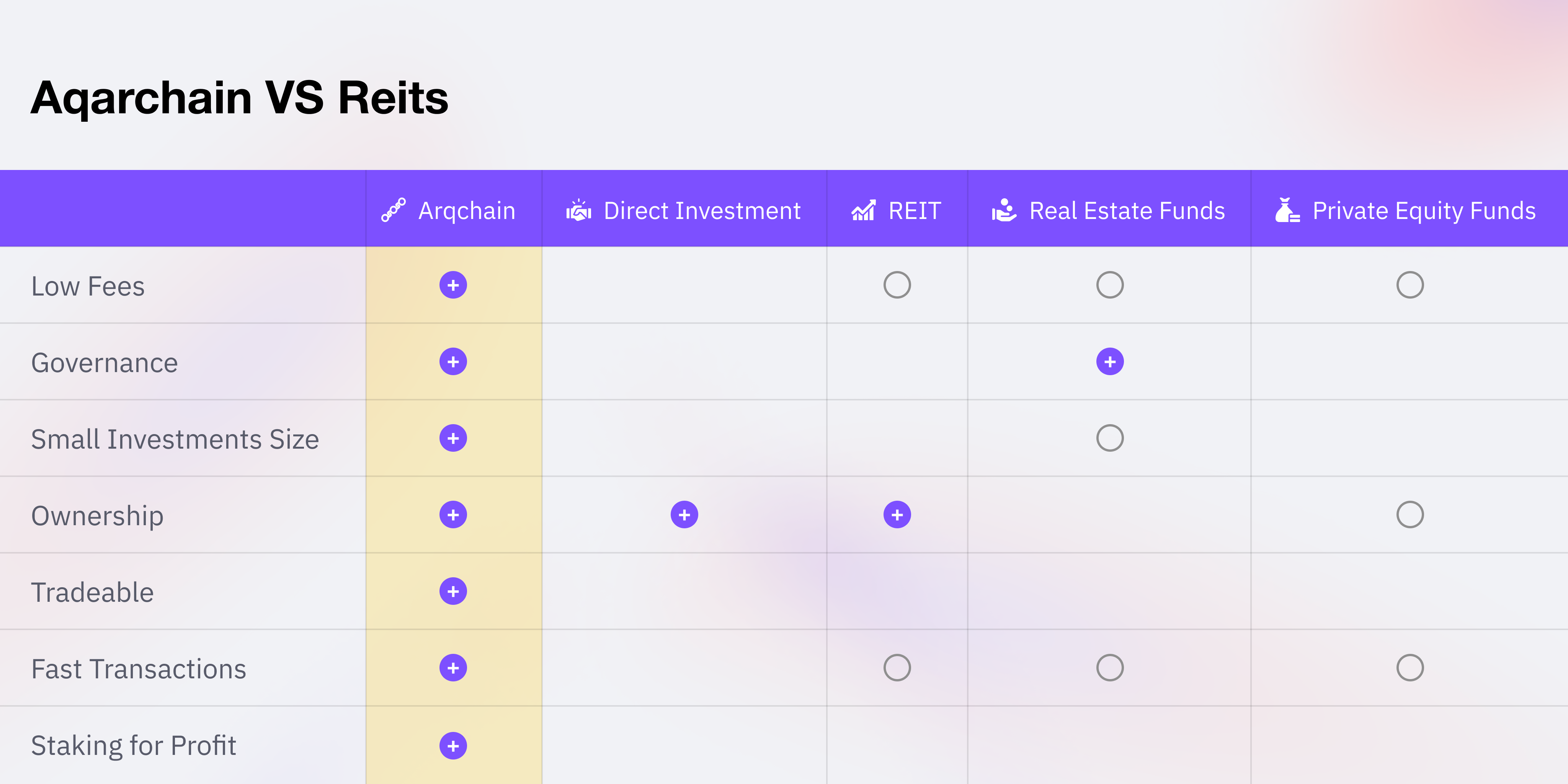 Learn more about Aqarchain by visiting their Facebook, Twitter, Medium, Youtube, Linked In, Instagram, or Telegram.
About Emirex
Emirex is a cutting-edge platform that combines an exchange and a marketplace to allow users to trade any currency for digital assets. It provides round-the-clock assistance, as well as platform stability that has been proven over years, ensuring the security of assets and data. The team recognizes the importance of digital assets and aims to make the world a better place for economic freedom by building public, open, fair, and censorship-resistant networks that benefit everyone. Sign up now!