Emirex is an innovative platform that includes exchange and a marketplace where users can exchange any store of value for digital assets. It highly values the power of Digital Assets and strives to make this world a place with more economic freedom through public, open, fair, censorship-resistant networks that serve humanity.
The following article requires a basic understanding of the Emirex exchange.
Company History
In early 2017, the platform founders (Grigory Rybalchenko and Irina Heaver) set out to improve the access to Digital Assets in the Middle East by starting working on BitMeEx - Bitcoin Middle East Exchange. The platform has become easy to use and offered access to many Digital Assets in exchange for international and local fiat currency. In 2019, the company introduced the next stage in the technology roll-out of a professional trading platform. It has been rebranded to Emirex.com, reflecting further roots and expansion plans.
The road ahead in the new financial world is about to be challenging, and a strong and predictable financial base is essential to the platform's ability to achieve a Regional coverage with multiple payment options, always maintaining 24/7 support accompanied by time-proven platform stability that guarantees the safety of assets and data.
Information about BME Technologies
The platform's terms of use apply to the services offered on the Emirex.com by BME Technologies OÜ, a legal person incorporated under the laws of Estonia with a registry code 14710805 with a registered address at Harju maakond, Tallinn, Lasnamäe linnaosa, Peterburi tee 47, 11415, its subsidiaries and affiliated parties and the users of the technology.
Licensing
The platform has two Estonian licenses:
Financial services, Providing a virtual currency wallet service;
Financial services, Providing services of exchanging a virtual currency against a fiat currency;

Number FVT000400

.
These licenses are both issued by the Estonian Police and Border Authority (Politsei - ja Piirivalveamet).
| | |
| --- | --- |
| Legal form | Private limited company |
| Registry code | 14710805 |
| Registration date | 24.04.2019 |
| Field of operation | financial and insurance activities |
| Address | Harju maakond, Tallinn, Kesklinna linnaosa, Tornimäe tn 7-36, 10145 |
| Status | registered |
Strategy 2021
Entering 2021, the crypto community and the entire world embarked on a new burst of investment enthusiasm. No one doubts the value of cryptocurrencies like Bitcoin anymore. In 2020, with the proliferation of DeFi apps emerging, blockchain and cryptocurrency began to attract more and more attention from traditional markets, especially institutional investors.
At Emirex, we are in full compliance with the upcoming developments, aiming to grow our platform further, and have built an ambitious road-map ahead of us. We are to improve our platform to deliver a full range of services that address the major requirements of the investors and issuers of the digital assets in the Middle Eastern region, as well as servicing the needs of the investors and issuers from Africa, Asia, and Europe that are looking to get exposure to the Middle Eastern wealth. We believe that blockchain-based decentralization and transparency can foster the free movement of value around the world, supporting social welfare. Besides, we are about to take place as a bridge-builder in the blockchain-powered future.
With this vision and mission in mind, our 2021 plan is based on the development of decentralized finance products. With DeFi, people get new ways to participate in cryptocurrency financial products and capitalize on their profits. That is why we have developed such projects like Emiflex and Emicomp as our contribution to driving innovation in decentralized solutions and other blockchain-related solutions.
Emirex's strategy is pursued in three ways: «Find the next crypto-precious coins», «Expand EMRX userbase», and «Develop DeFi infrastructure».
To "find the next cryptocurrency" our blockchain project research team closely monitors major industry trends to find more promising projects. Our trading system will continue to update to ensure that each token can be traded consistently on Emirex.
When it comes to EMRX, the token is the glue for the entire ecosystem, and empowerment will be another key priority in 2021 and beyond. In this regard, the team is pleased to all EMRX holders to grow with us and share the benefits of our growth. In the long term, cryptocurrency acts as the key to the entire Emirex ecosystem.
In the meantime, we also have a plan for the development of the decentralized finance sector. As of today, we have already introduced our DeFi innovations to the market, which allow users to receive their interest and income. Further development of this area is necessary for the crypto industry since it meets various user needs. Emirex is committed to support and innovate to stay relevant to contemporary, priority development concerns. In this connection, in 2021 we will see great convergence.
EMRX Coin
EMRX is the Emirex platform's native utility token. Its functionality is structured around the utility it provides. It powers the infrastructure for the new digital economy brought to users by the Emirex company. EMRX creates a growth spiral through the built-in mechanism in which the ecosystem participants can earn EMRX for their participation. Proactive engagement with the wider community of traders, investors, issuers, and partners, who are the direct beneficiaries of the growth of EMRX, drives growth and generates the network effect.
As the native token of the Emirex Ecosystem, EMRX has multiple use cases such as listing fees for placement of tokenized assets, transactional fees from buy/sell transactions, custody and servicing fees, commission and partner incentive schemes.
EMRX is designed to incentivize the ecosystem of traders, investors, issuers, and partners within the Emirex ecosystem. The following functions are embedded in the token model to ensure that participants are fully engaged. EMRX functionality will be further enhanced as technology develops.
EMRX token is used to pay for the products and services of the Emirex ecosystem. Users receive a discount if they pay transaction fees, listing fees, or application fees in EMRX. They can also enjoy priority participation in IEO projects.
There are various programs for the different stakeholder groups, including rewards for active investors, paybacks for asset issuers, rewards for contributors of work, as well as airdrops with partner coins.
Users can enjoy bonus EMRX by successfully inviting new users to register with Emirex infrastructure.
Emirex users can convert crypto dust that is equivalent to less than 0.001 BTC into EMRX tokens.
Holding EMRX tokens enables participation in the community voting polls.
The number of EMRX tokens is limited to 500,000,000. It is issued as an ERC-20 token, compliant with the public Ethereum blockchain. Emirex burns up to 50% of all of the EMRX every quarter received for the sale of its products and services until the circulating supply reaches the 250,000,000 EMRX, 50% of the originally issued 500,000,000.
Key Developments & Products
EmiFlex

is a decentralized autonomous organization created to provide asset management from the best high-yielding protocols. It uses its approach to achieve the best risk-reward ratio and derive the maximum benefit.
EmiComp

is a modern service supporting the innovative DeFi market. The fully decentralized platform offers everyone the opportunity to accelerate COMP tokens from the largest DeFi project Compound, which is almost risk-free and provides an average yield of about 43% per annum.
The team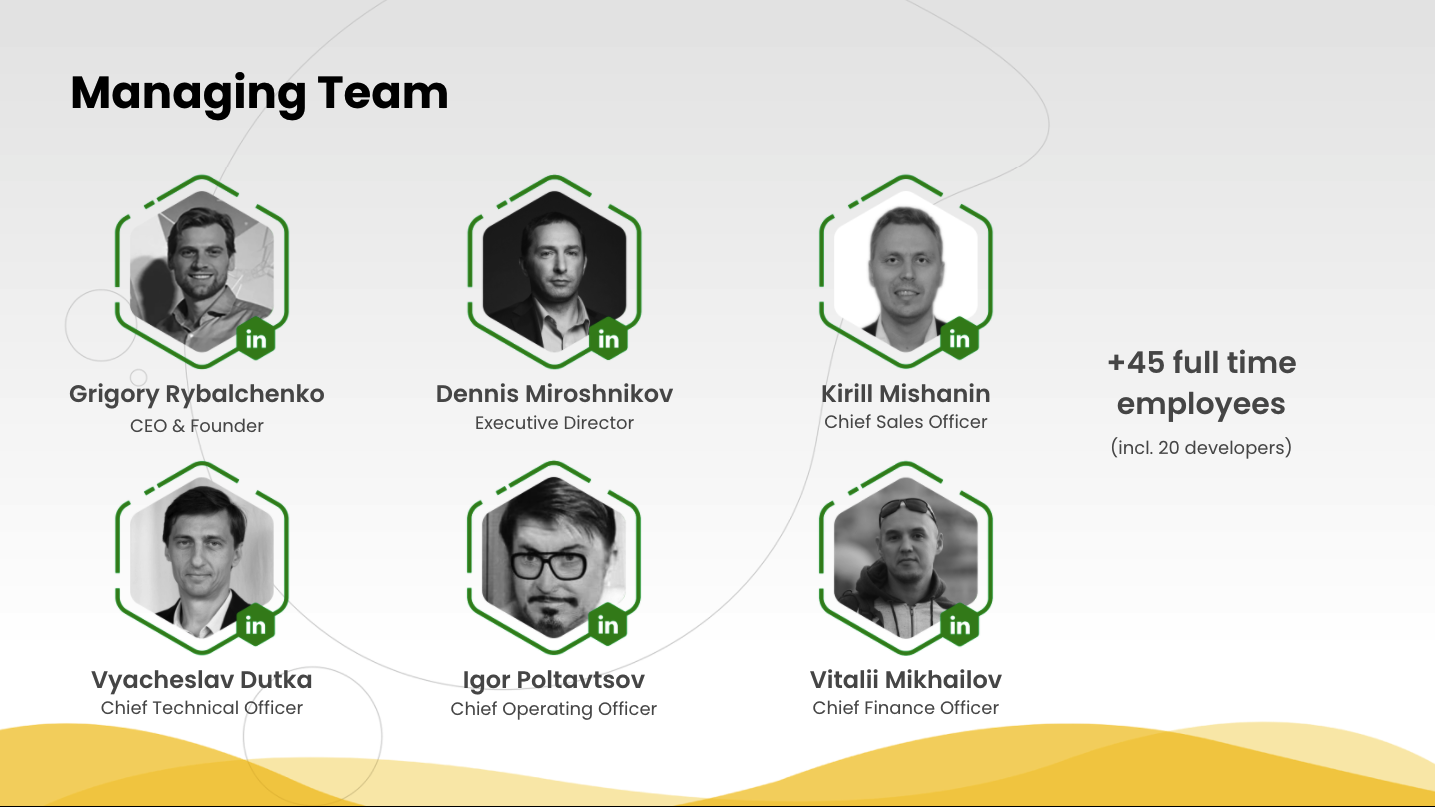 Enlargement & partnerships
With a view to strengthening Emirex capacity, international cooperation based on constructive and mutually complementary partnerships is one of the company's key focuses. As a consequence, the EmiDAO alliance was shaped, participants of which include Alpha Sigma Capital, DigiFinex, BitMart, Emirex, and Everest.
Alpha Sigma Capital Ltd. (Bermuda) is an investment fund focused on emerging blockchain companies that are successfully building their user-base, demonstrating real-world uses for their decentralized ecosystems, and moving blockchain technology towards mass-adoption. ASC is focused on companies leveraging blockchain technology to provide value-add in areas such as fintech, AI, supply chain, and healthcare.
"The EmiDAO ecosystem is an entry point for companies and projects that are interested in developing new projects and initiatives in DeFi. Decentralized finance is still in its early stages but with over $38 billion USD in DeFi systems alone, we are seeing more and more capital committed to these platforms and new ideas and initiatives that are innovative and compelling. EmiDAO will allow new participants and developers to leverage the platform in a true DAO environment." commented Enzo Villani, Member of Alpha Sigma Capital Ltd. (Bermuda).
In addition to Alpha Sigma Capital, the DigiFinex and BitMart exchanges have joined EmiDAO to provide liquidity to the EmiSwap protocols and list the Emirex and ESW tokens on their exchanges. Everest has also joined EmiDAO and is supporting the EmiSwap project with its global banking platform that will be integrating eKYC (Know Your Customer), AML (Anti-Money Laundering), whitelist-as-a-service, and fiat-in/out ramps.
DigiFinex

is one of the world's top cryptocurrency exchanges by trading volume and liquidity. The exchange has a $2,1 billion daily trading volume and 200+ cryptocurrencies listed. Moreover, it is trusted by 4 million users globally.

BitMart

's highest daily trading volume was $3 billion with 2.1 million global users and over 300 cryptocurrencies listed. The exchange is funded by Fenbushi Capital, the first and most active blockchain-focused venture capital firm in Asia.

Everest

is a global banking platform that is integrating its services of eKYC, AML, whitelist-as-a-service, and fiat-in/out ramps Everest is the world's only device-free globally accessible, digital transaction protocol with a built-in identity. Users of the platform can digitally verify their identity for public services and other operations. The platform is constructed the way that people own and control their information. Besides, all data is shared selectively and is resilient against attacks.
For more information about the Emirex project, products and participation, kindly get connected with these links:
Website: https://emirex.com/
Whitepaper: https://emirex.com/whitepaper
Facebook: https://www.facebook.com/emirex.official/
Twitter: https://twitter.com/EMIREX_OFFICIAL
Telegram: https://t.me/emirex_official_chat