Nowadays, everybody has heard that investing in Bitcoin is a good idea but not a lot of people understand why. Since the launch of BTC in 2009, the market trust to cryptocurrency has raised the same as its price. Starting from 2013 price for BTC has risen from 100$ to 20000$ to in 2017. A lot of investors are looking into having BTC as an asset in their investment portfolio. Others are looking into putting money in the mining of Bitcoin which is a profitable area of cryptocurrency. Still, there are a lot of assets that are profitable so let's find out what makes cryptocurrencies so special.
Bitcoin in the investor's spotlight
Different numbers can show why investors are putting their trust into this asset even though there is negativity about it. Market capitalization of BTC has skyrocketed over the course of past 7 years from 1.000.000.000$ up to 170.000.000.000 in 2020. Trust into any asset from governmental bonds to cryptocurrency has a snowballing effect that increases the value of it. Same effect can be seen here from data on market capitalization that has a stable growth throughout the years. Traded volume of BTC in 24H period is reaching 30 billion dollars on average which indicates its liquidity. Also, it is not closed by any borders by interest from buyers and users because it is a global asset.
Why Bitcoin is so popular?
First reason why Bitcoin is so popular asset to invest in among people around the world is its scarcity. BTC's design implements an idea of controlled inflation through the limited supply of 21 million coins ever produced. It is a great tool to control rising prices but also it adds bigger value to this asset in time. Interest around Bitcoin is growing each year but the supply on the market will not meet the demand. It is a simple economic concept that will raise the prices and people who hold BTC will profit from it.
Second reason why people do not stop to put their trust into BTC through years is the usefulness. Bitcoin is actually used to make all processes connected to money and trading easier and more secure. Some regulations in different countries towards the limitation of money transferring are making cryptocurrency a better option to use. Bitcoin can be used both as an asset to hold your capital and also a currency to make transactions with. It is a full substitute to a fiat currency that is also not tied to any country's economy. Also, BTC is one of the most secure and fastest ways to make transactions and hold your capital.
Third reason is that market is keeping getting trust from investors all around the world. As we said before, value of any asset depends on phycology on the market that will eventually get snowballed. "More people want to buy the asset – more pricy and stable it gets" – is a motto of BTC. It might sound a little bit like a scam if it wouldn't be proved by many years of stable growth. It wouldn't be an asset that is not worth looking in to investing if so many investors trusted. Universal trust into the asset throughout the years couldn't be built on idea that is not worth to invest.
Last but not the least, BTC is a very profitable asset to trade with on the market even in 2020. We all have heard stories of people buying BTC and selling it 2-3 years after a sharp rise in prices. A lot of traders use Bitcoin as an asset to trade on short period by daily or weekly trading. Fluctuation of price of cryptocurrency is not changing largely if there is no market manipulation or other effects. Same as traders use companies' shares or bonds to trade, nowadays they choose BTC to do the same. All of these reasons make you to look into investing in crypto market.
History of BTC prices on the market
Bitcoin has been launched in 2009 but its appearance has created a whole new market used in all continents. Around 2013 market price was flat and around 120$ but it has risen up to 1000$ in 2014. Some say that it was tied to the halving that occurred in 2012 when a reward for a block halved. Although, some people believe that change in prices was affected by the global crisis in Cyprus. Anyways, it is clear to state that people who could have predicted this events made a fortune.
There was another time when prices have risen that is worth of notice. After a halving in 2016, prices have multiplied by more than 10 times to the end of 2017. We can see a clear correlation that prices skyrocket a year after each halving but it might be wrong. Some say, that starting from 2016 prices were growing because of the bubble on IEO market. Bubble has popped in the beginning of 2018 and prices started to go down. It is up to you to decide what actually caused the markets prices fluctuation.
It is very important to mention that the third halving occurred in 2020. A lot of investors expect that BTC price will increase again same like two halvings before. Some believe that it will not happen due to economic crisis in the world due to coronavirus outbreak. Nonetheless, it is very important to see the patterns that exist in the market when looking to invest in BTC. This information just proves that crypto market is still profitable market to invest in.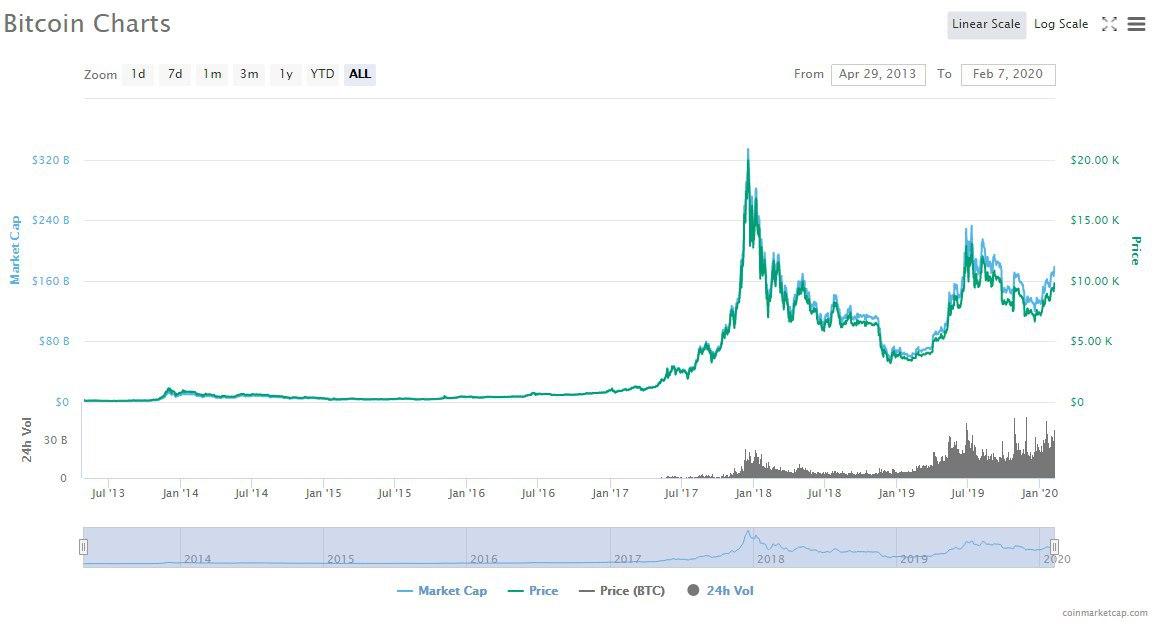 How to buy BTC?
After you made a decision that you want to invest in Bitcoin you need to decide couple of things. First thing, you need to choose the best exchange that will provide you the best service in the market. Second step is to choose your wallet to trade and store cryptocurrency on or use wallet provided by exchange. Third step is to select you payment method you prefer which can be a credit card, bank account or other. Last step is to buy your first BTC, store it on your wallet and use your crypto. Let's take a closer look into the steps.
Choosing the best exchange is the most important decision made by a new investor on crypto market. Chosen exchange has to have best fee rates, great interface and a community of professionals that will always help. Emirex is the best choice for newcomers and for those who are experienced in BTC trading. Emirex supports different pairs to trade BTC so it will not be a problem for any trader.
Emirex will be a good choice to start trading on because it also provides different types of services. As we come to a second step, Emirex provides its own Emirex Wallet to buy and store crypto on. It also has its own token called EMRX that is used for exchange purposes and makes life of users easier. Easy-to-use interface makes it a pleasure to trade with Emirex.
As of a last step, after you chose Emirex as your main exchange and wallet, its time to buy BTC. You can do it easily with couple of clicks on Emirex. System accepts bank transfer, credit and debit cards. It is the best exchange because of cheap and easy remittance, highest security standards and highly regulated network. Definitely, it is the best choice for trading BTC in 2020.
What are the strategies to trade BTC?
It is up to you to choose the best strategy to trade BTC and make profit out of it. First is "impulse trading" when you buy when price drops and sell on the opposite. Second is "scalping" when you profit off small price changes, right after an order is executed and becomes profitable. Third is "daily trading" when you buy at the lowest average price, sell at the highest average price daily. Also, there are "pullback trading" and "arbitrage trading" strategies that are worth looking into in BTC trading. It is up to you which one to choose when you start your first BTC trade in 2020.
But if you do not gonna trading, the best thing you can do for yourself is simply to buy Bitcoin and hold it in your cold wallet as Trezor, Ledger, Secux, etc.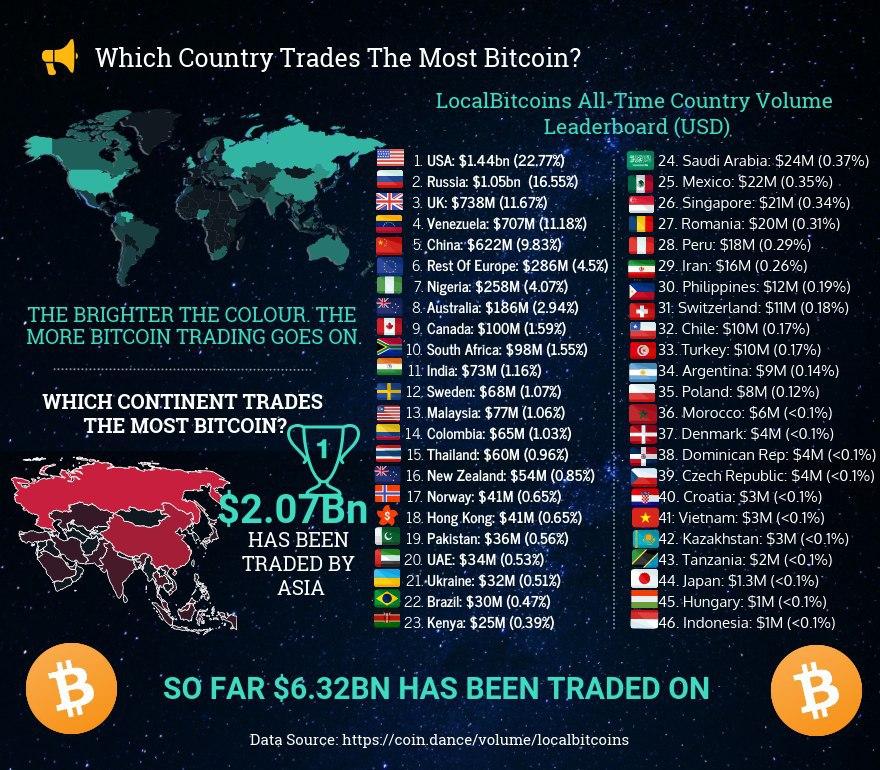 Future of Bitcoin and BTC trading
It is important to mention that USA and Russia take about 40 percent of trading volume. It means that there are multiple markets were money flow is not affected by BTC's participation. It gives huge opportunities for traders all around the world to hold the niche of crypto enthusiasts in their country. For example, countries like Turkey, Egypt, Saudi Arabia, Kuwait, Bahrain and UAE have a massive flow of money. Although, crypto is not that developed according to distribution chart of transactions by volume in stated countries. It will be profitable to look into BTC trading for investors from countries above.
Even though Bitcoin is growing and conquering more countries investor-wise, multiple governments are trying to put limitations over it. Different types of tracking and limitations are already set to prevent black market transactions and money laundering. Nonetheless BTC is a still secure and easy-to-use currency that will probably just grow in the next 10 years. Also, it is important to say, that most probably it will get more expensive through the years due limited supply. So, it is a right time to invest in Bitcoin while it is a still-growing market.
Got a question or suggestion? Ask us via